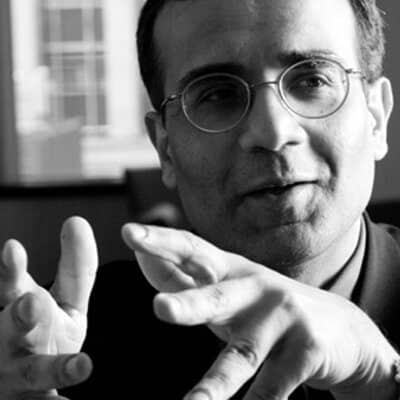 Rishad Tobaccowala
Publicis Groupe
Rishad Tobaccowala is the Chief Growth Officer of the Publicis Groupe, an 80,000-employee firm comprising companies like Sapient Razorfish, DigitasLBi, Leo Burnett, Saatchi and Saatchi, Starcom, Zenith and many other companies dedicated to delivering marketing and business transformation. Rishad also serves on the Publicis Management Committee.
In his current role Rishad is responsible for supporting the leaders of the largest global Clients of Publicis Groupe to help their Clients grow in a transformative time and drives the global business development efforts of the firm.
Between July 2016 and June 2017 Rishad played a dual role of Strategy and Growth Officer of the Groupe adding the Growth role to his Strategy functions.
Between 2014 and 2016 Rishad was the Chief Strategist of the Publicis Groupe during which in tandem with the global CEO he helped drive the new strategy of the Groupe to move from a marketing communication to a marketing and business transformation firm and informed the re-organization of the Groupe from an Agency brand centric to a Client centric organization called the Power of One.
Prior to his Chief Strategist role, Rishad was the Chairman of DigitasLBi and Razorfish, two of the largest marketing transformation agencies in the world with over 11,000 employees.
Over his 35-year career Tobaccowala has worked across almost every area of marketing including brand advertising, media, database, direct and interactive marketing. As a pioneer in digital marketing, Tobaccowala helped create one of the first interactive groups and digital agencies 20 years ago and has helped launch a series of initiatives over the years from groups focused on gaming, social, mobile and search engine marketing. Starcom IP, Play, Giant Step, SMG Search and Denuo are some of the brands Tobaccowala helped incubate.
Tobaccowala was named by BusinessWeek as one of the top business leaders for his pioneering innovation and TIME magazine dubbed him one of five "Marketing Innovators." He is the Ad Age Interactive Hall of Fame and has received a life time achievement silver medal award from the Chicago Ad Federation
He serves on the board of Matomy an Israeli based outcome based digital performance company and an advisor to a host of companies in the venture capital and start up space include Greycroft Ventures, Abundant Ventures and Jana Mobile. Previous board roles include Audience Science and Snap (an Idealab company).
Rishad is also is chairman of The Tobaccowala Foundation, which helps over 10,000 people gain better access to health and education in India.
Rishad is a prolific writer and speaker. His Re-inventing blog is read by Clients and the Industry to better understand the changes roiling marketing and business. Speaking engagements include key notes at major Client and Industry conferences as well as at Google and Facebook.
Tobaccowala holds a bachelor's degree in mathematics from the University of Bombay and an MBA from the Booth School of Business at the University of Chicago with which he remains closely involved.