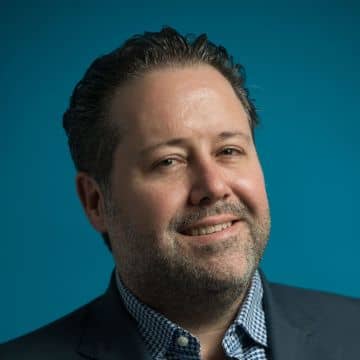 Sean Finnegan
The Room
Sean brings a veteran's perspective to personal media, mobility and digitized social interaction. For the past 25 years, he has successfully navigated major digital media evolutions and created sustainable growth for clients, agencies, publishers and influencers, carving a unique path for brands and marketers by maintaining a people-focused approach to advertising.
Finnegan has held global digital leadership roles at major agencies including serving as President and Chief Digital Officer at Publicis' Starcom MediaVest Group (SMG), where he was responsible for developing digital strategy, communications products, proprietary tools and technology applications. Before joining SMG, Sean was Chief Executive Officer of Omnicom Media Group's (OMG) Digital unit, where he led the worldwide management team and developed functional services in media investment, search, mobile, gaming, futures, analytics and ad operations. While at OMG, Sean acquired Resolution Media, a then small SEM firm based in Chicago, which today operates as a global, full-service digital agency powerhouse.
Upon leaving the Agency space seven years ago, Sean became a full-time entrepreneur, building a series of companies and taking them through to financial exits. He first constructed "The C4 Group" (C4), a strategic consultancy designed to guide and grow media and technology companies. C4 was sold to true[X], where he spearheaded the company's strategy, sales and marketing teams, leading to its acquisition by 21st Century FOX. Finnegan also helped create and launch "DMR", an advertising analytics firm which was sold to Shoulder Tap Advisors, as well as "co/star", a social influencer agency, along with partner and entertainer Kevin Jonas, which was acquired by The Engine Group. Sean is currently co-founder and partner of the Chameleon Collective, a global strategic consultancy focusing on the media, entertainment, retail and technology sectors.
Finnegan is committed to mentorship and as such, is a Guest Lecturer at such venerated institutions as Georgetown University's McDonough School of Business, Northwestern's Medill Integrated Communications School and more. Sean has also provided Keynote speeches at global advertising conferences such as Sydney's Ad:Tech, Cairo's Nielsen 360, India's GoaFest, The Cannes Advertising Festival, The Wall Street Journal's "Digital Download" and many more.
For his charitable service, Sean serves as co-founder and board member of the Tom Deierlein Foundation (tdfoundation.org), an organization dedicated to helping provide U.S. Military families and children with their most basic living needs. He also received the distinction of Kentucky Colonel, an honorary commission given by the state of Kentucky to individuals noted for their public service.
For Finnegan's professional efforts and accomplishments, he has been named an American Advertising Federation Hall of Achievement Inductee, Advertising Age Media Maven, Mediaweek Media All Star, MediaPost All Star, one of min magazine's "Most Intriguing People," Internationalist Magazine Agency Innovator and OnMedia's Madison Avenue "IT" List.